This is my web log page for a 30 day trip I took with my father to Antarctica aboard the Ice Breaker Kapitan Khlebnikov. This voyage was operated by Quark Expeditions, whose staff made the trip safe, enjoyable, informative and most of all, fun! See their web site at http://www.quarkexpeditions.com/
This web log is being posted after the fact, but I will be posting it a few days worth of travel at a time, so keep checking back until I have it all completed. Thanks for Reading,
Philip Walters pwalters(AT)frontier(DOT)net
All content on this site © 2008-2009 Philip H. Walters unless otherwise indicated.
Below the following maps, there are links to click to see the photos and story for that map. So that you can get an idea how far the story will eventually go, I've put placeholders in for future links. If it is underlined, it is a live link and you can click on it.
Enjoy the trip!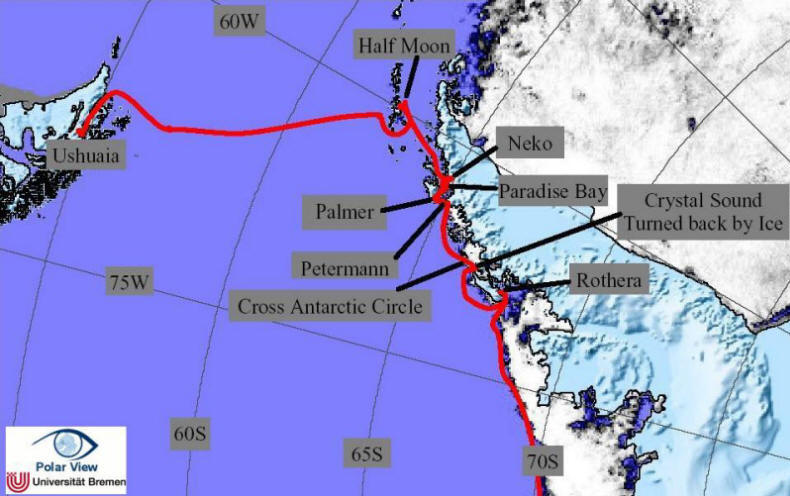 MAP 1: Route of Voyage showing Ice (white) From November 14 to November 20 (polar map projection) Ice conditions as of November 17, 2008. Ice Map Imagery on this site provided by Universitšt Bremen Polar View
November 10-14, 2008-The Beginning (rev 12-24-08)
November 15, 2008 The Drake Passage (rev 12-24-08)
November 16, 2008 Drake, South Shetland Islands & Half Moon Island (rev 12-30-08)
November 17, 2008 The Peninsula: Neko Harbor, Paradise Bay (rev 1-1-09)
November 18, 2008 Peninsula Pt2: Palmer Station, Lemaire Ch. and Petermann Island (rev 6-26-09)
November 19-20, 2008 Peninsula Pt3: Crossing the Antarctic Circle, Crystal Sound, Rothera Station (rev 2-4-09)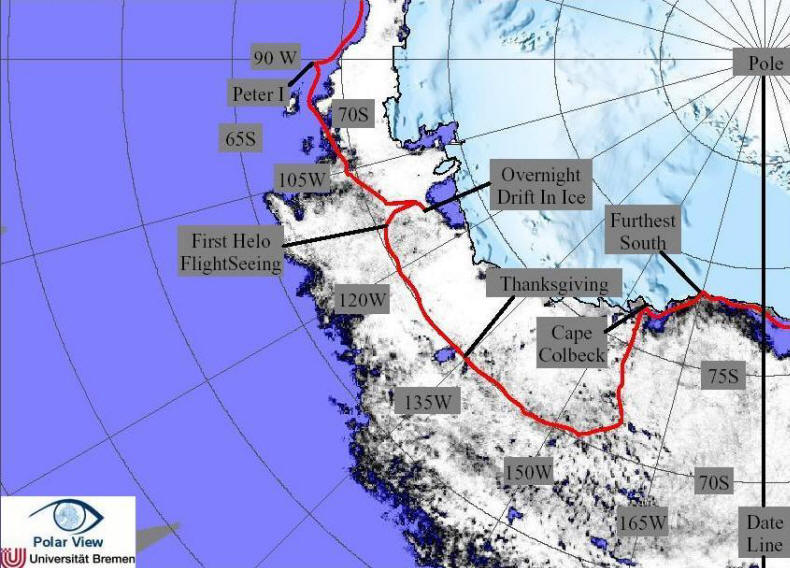 Map 2: Route of Voyage from November 21, 2008 to November 30, 2008.
Ice conditions as of November 27, 2008
November 21-22, 2008 Bellinghausen Sea and Peter I ōY (rev 1-30-09)
November 23-24, 2008 Breaking Ice and drifting in ice (rev 4-05-09)
November 25-29, 2008 Seventy South Heading West, Helicopter sightseeing & Thanksgiving (UC 4-05-09)
November 30, 2008 Cape Colbeck Emperor Penguin Rookery (future link)
MAP 3 ROSS SEA [Dec 1, 2008 to Dec 7, 2008] goes here
December 1, 2008 Bay of Whales, Furthest South, Ross Ice Shelf Landing, Cross Date Line (future link)
December 3, 2008 McMurdo Sound, Shakleton's Nimrod hut at Cape Royds,
& 100 years of motor transport in the Antarctic (future link)
December 4, 2008 Drygalski Ice Tongue, Cape Washington Emperor Colony (future link)
December 5, 2008 Beset (that means stuck) in the ice (future link)
December 6-7, 2008 Breaking Ice, helicopter sightseeing, Orcas and Charity Auction (future link)
MAP 4 SOUTHERN OCEAN [ Dec 7, 2008 to Dec 13, 2008] goes here
(future links follow)
December 8-9, 2008 Cross Circle, Exit the Ice, I wake up the entire ship, The Southern Ocean
December 10, 2008 Zodiac Landing at Campbell Island- Subantarctic flowers, Albatross and a Railroad
December 11, 2008 Zodiac Landing at Enderby Island- More lovely subantarctic flora and fauna.
December 12, 2008 En Route to Lyttelton, NZ and preparing to return to the world outside the Ice
Map 5 New Zealand goes here
December 13, 2008 Docking and Diaspora at Lyttelton, The Antarctic Centre at Christchurch,
flight to Auckland, see some dear old friends for dinner
December 14, 2008 Knocking about Auckland and west coast with friends
December 15, 2008 Fly out of Auckland airport in afternoon, cross date line during night
December 15, 2008 Wake up, start Dec 15th all over again and land in Los Angeles, CA
In afternoon, fly to Albuquerque, arrive late, meet Linda, spend night
December 16, 2008 Drive back to Durango, then Mancos, dig house out of snow, sleep; Dream of Ice.