Monday November 10, 2008
The adventure begins
Well, it was time to start the journey south. Linda and I drove to Durango and picked up my father John at his house. We drove to Albuquerque, had dinner and spent the night at the Albuquerque Airport Grand hotel. I did not sleep very well.
Tuesday November 11, 2008
Albuquerque to Buenos Aries
After a restless night, we all ate some simple breakfast goodies I had bought at Smith's the evening before. About 6 am Linda drove us to the airport and saw us through check in at Delta. We all found a place to get some coffee and spend a few last minutes together. As Linda needed to get on the road to Phoenix to visit our good friends Steve and Gem, we all hugged and John and I proceeded on to TSA as Linda waved to us. It will be over a month before we see each other again, in the same spot.
We boarded our flight to Atlanta, where we had a five hour layover, giving us time to eat and nap. It also gave us time to find out that we could upgrade our flight to Buenos Aries to Business class with sleeper seats, which John decided was worth paying for, and I'm glad he did. Around 6:45 pm we departed Atlanta, sitting in two different areas due to the late upgrade. I found myself sitting next to a epidemiologist who used to work for the Center for Disease Control, and now works for one of the pharmaceutical companies. His project is working on a vaccine for West Nile virus. I misplaced his name in my travels, but he had kindly given me his cell phone number in case we had difficulties in Argentina, as he was an Argentine citizen. Fortunately we never needed that help.
Wednesday November 12, 2008
Buenos Aries to Ushuaia
After a long night flight, we finally arrived at the International airport in Buenos Aries. Normally, one has to get a shuttle across town to the other airport for domestic flights to Ushuaia, where the ship would be. I had such a flight booked, but I had been keeping an eye on the Aerolineas Argentinas web site and about a week before we left, I was able to rebook on a flight that left the International airport for Ushuaia. So, we did not need the shuttle, however, after we cleared Argentine immigration, we had to drag our bags around the outside of the terminal and go into an older part of the facility to check our bags. Then we had to walk back around the outside of the terminal to get lunch, and then wait to board our plane in a spot not 20 yards from where we had left immigration. There were no signs to guide us through this; we just had to keep asking questions. Someday, when the BA airport renovations are complete, maybe it won't be so confusing.
We had a lunch of a curiously flattened sandwich on white bread, apparently pressed flat as it was grilled. Tasted ok, but looked funny. We boarded our flight around 2:15 and had an uneventful flight to Ushuaia, other than being served some more flattened sandwiches by a very attentive crew. The weather was overcast, so all we saw of Patagonia was clouds unfortunately. As we approached Ushuaia, we dropped below the clouds over the Beagle Channel, but the mountains were still shrouded in mist. We arrived in Ushuaia about 5pm, found our bags and hailed a taxi. Using my very bad Spanish I managed to tell the driver what hotel we were in and exchange some small talk.
We arrived at the El Fueguino Hotel, which was a nice European style small hotel. After we had dinner, I spoke with the front desk and arranged for a combination tour for the next day.
Thursday November 13, 2008
Ushuaia, Tierra Del Fuego, Argentina
Thursday morning found the weather somewhat improved, and at times on could see the mountains surrounding this port city in moments of sunshine.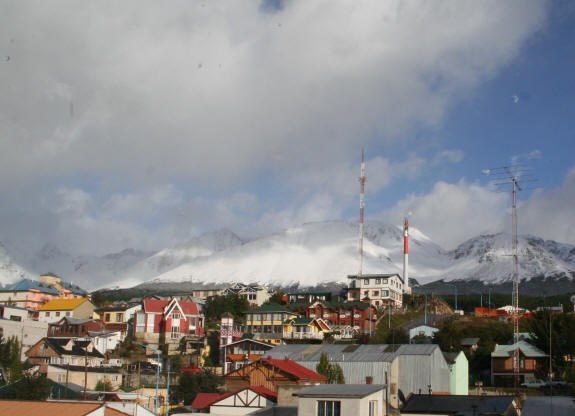 The View from our hotel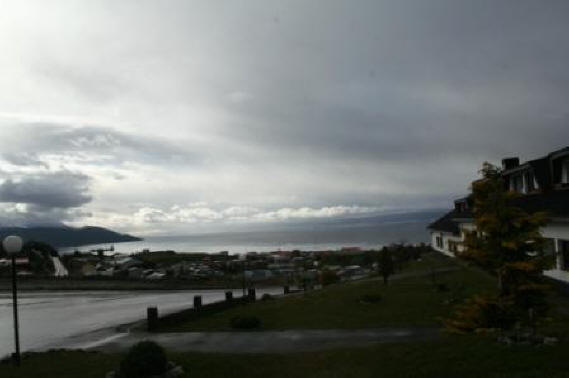 A view toward the bay from above town
After breakfast, the New Voyages tour bus picked us up at our hotel. We wandered around Ushuaia picking up other tourists, which also meant we were getting an impromptu tour of the town and all of its hotels. The bus dropped about half of us at the station for a ride on the "Train at the End of the World" also known as the "Convict Train". I'll refer you to their web site for details (http://www.trendelfindelmundo.com.ar/tfm_base_en.html ) , but here are a few photos from the train.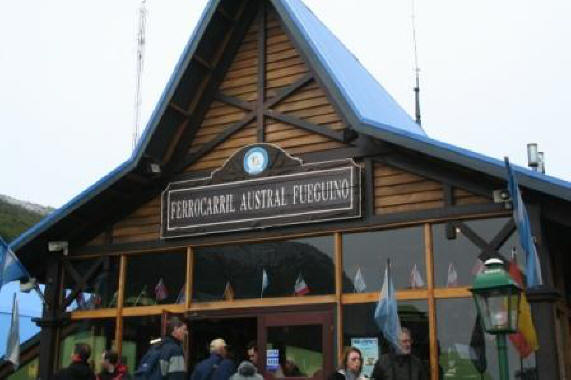 The Station near Ushuaia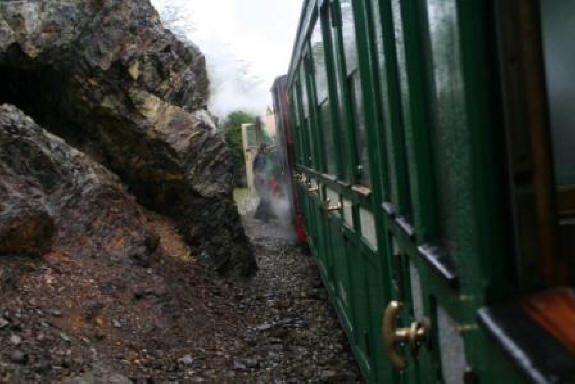 Stopping to pick up the helper locomotive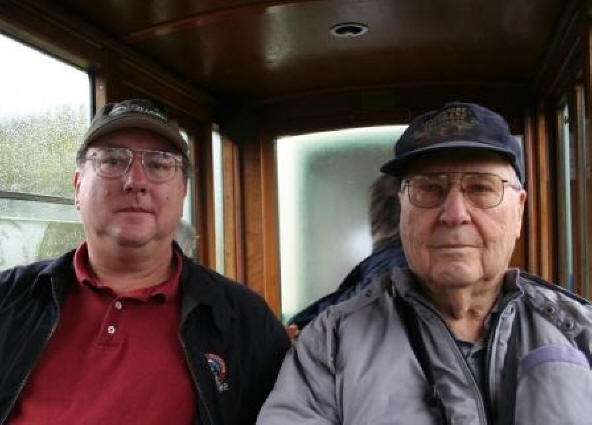 Philip and John aboard the train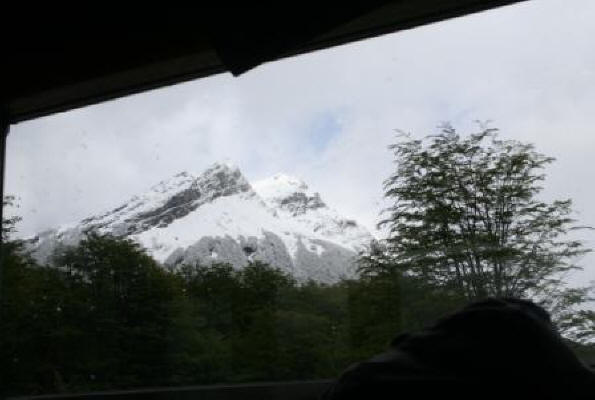 Mountain View from train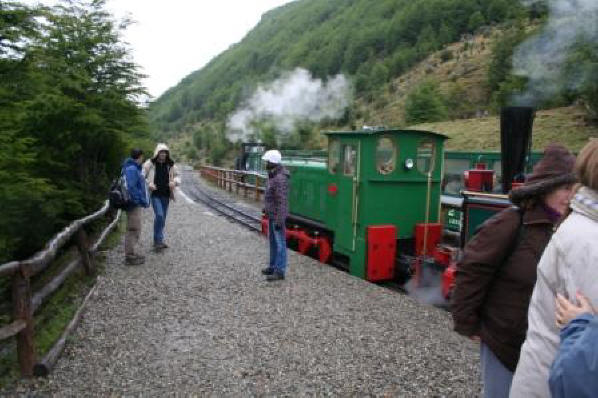 Helper diesel at front of train
This stop is at a scenic overlook, and the helper will drop off here.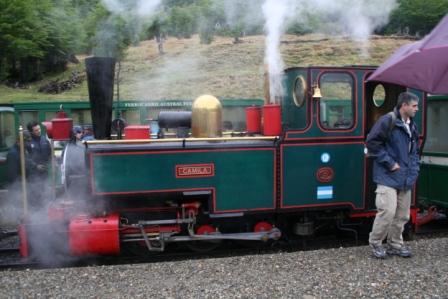 Our steam power. These engines burn fuel oil.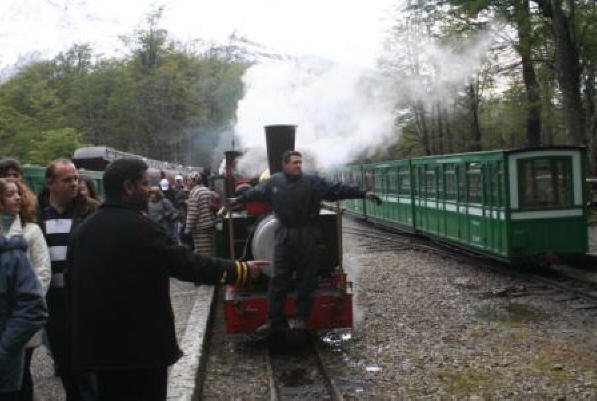 Our train as it arrived at the National Park Station
The New Voyages bus picked us up and we rejoined the others for a tour of the National Park. With us was Eugenia, our very knowledgeable bilingual guide who had a wealth of information on the local history and flora and fauna. She also got us ready for our trip south by taking us on a nature hike over hill and dale in the park.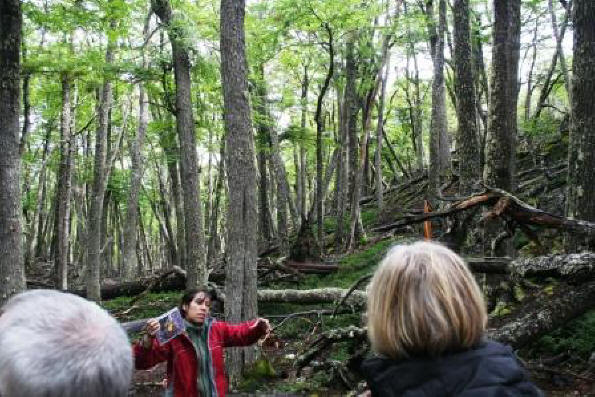 Eugenia guiding nature walk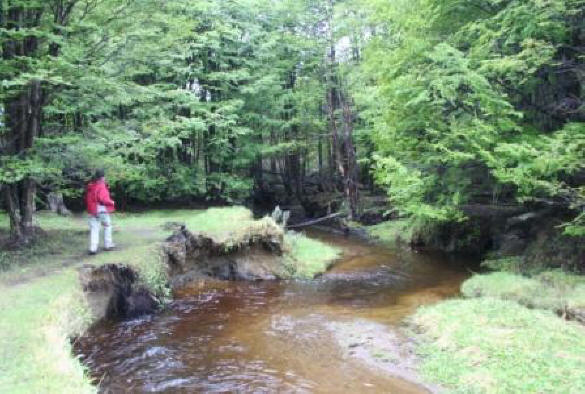 Iron rich volcanic soil colors the streams in the park.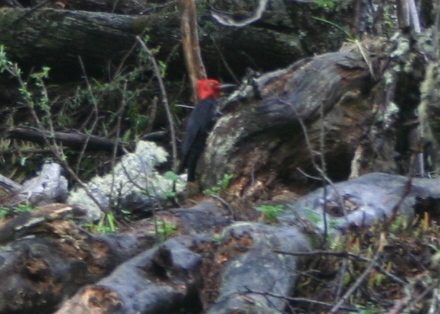 Patagonian wood pecker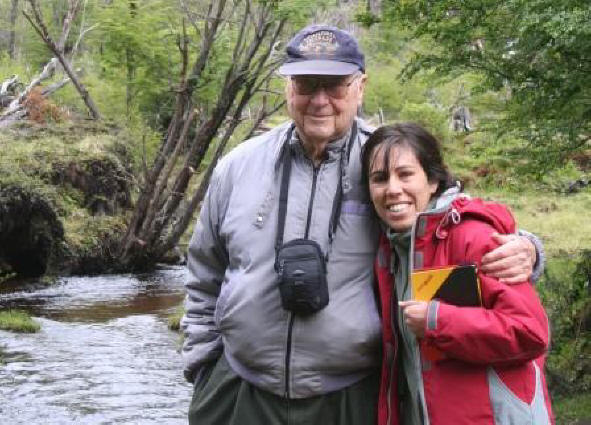 John and Eugenia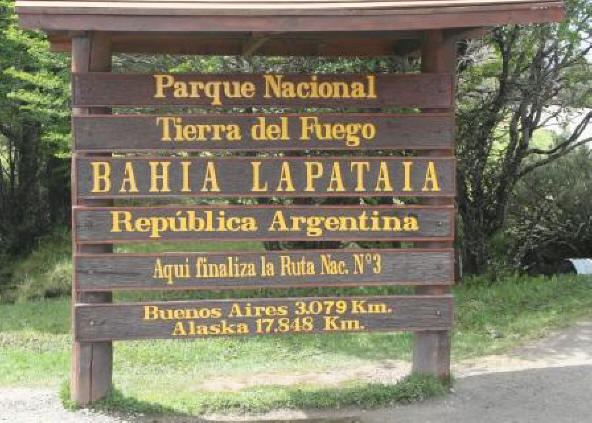 The Austral end of the Pan American Highway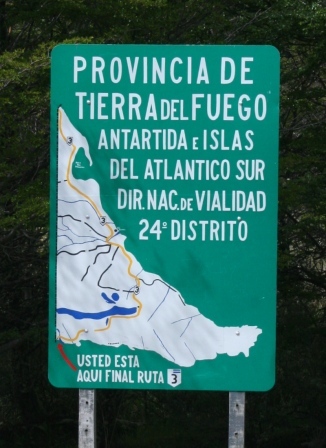 You are here at the end of Rte. 3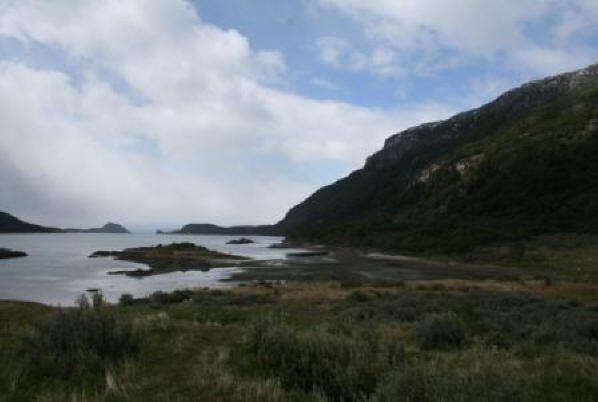 Looking southeast toward the Beagle Channel
We then returned to the Hotel, had dinner and packed up our bags to be ready for embarkation the next day.
Friday November 14, 2008
Embarkation
We ate breakfast and then waited for the Quark rep to come pick up our bags around 10am. We checked out of the hotel, and then wandered around Ushuaia. We walked over to the Hotel Albatross which was near the port facilities. There we began to meet some of our fellow travelers. Ray Woods introduced himself and we three talked at length. I walked out to the waterfront to take some pictures of our ship, the Kapitan Khlebnikov.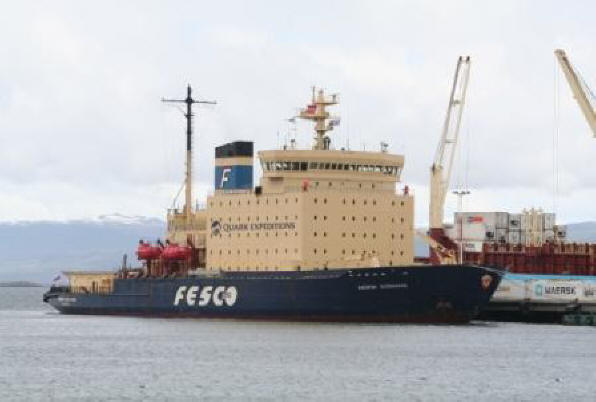 The Kapitan Khlebnikov (Капитан Хлебников)
There I met fellow passengers Dave Griffiths and Andy Myatt. Dave noticed my Durango Silverton RR jacket and introduced himself as a fellow railroader and volunteer driver at the Romney, Hythe and Dymchurch Railway in the UK. Andy had a huge lens on his camera, apropos for a professional photographer, and was taking pictures of the ship and environs.
The Europa Sailing ship and the Lyubov Orlova tour ship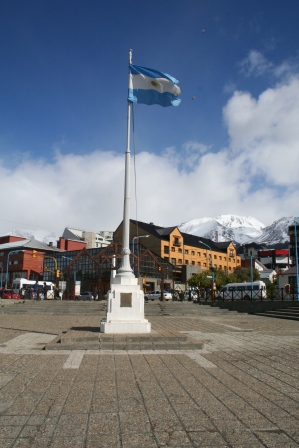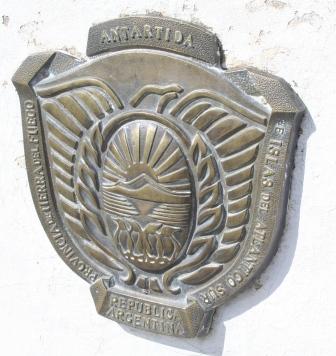 Argentine Flag over Port Plaque on Flagpole
Monument near port entrance
After many hours of somewhat anxious and excited milling about, at 3pm it was finally time to board the busses, take the short drive to the port, clear security, and board our ship, our home for the next month.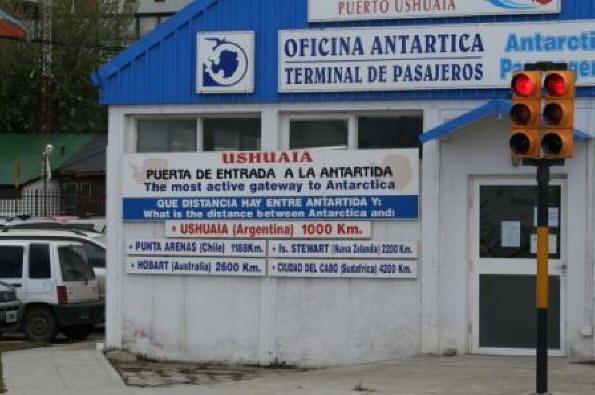 Port facility Antarctic Passenger Office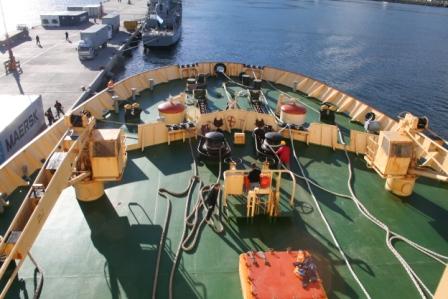 Casting off
Looking Aft as we depart Ushuaia
Soon after Casting off, we had an introduction to all the ships crew and staff, followed by the mandatory safety briefing and lifeboat drill. We then had the Captain's welcoming cocktail party in the lounge and bar, followed by dinner. After Dinner, most of us spent the evening familiarizing ourselves with the ship, with many of us ending up on the flying bridge.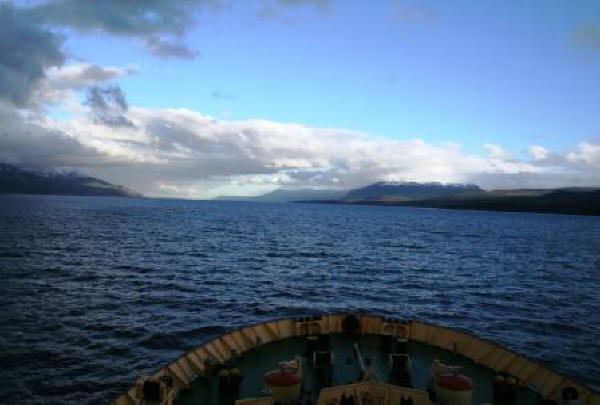 Heading to sea in the Beagle Channel
Finally, after dark we reached the open sea, just in time to go to bed.