November 23, 2008
Breaking Ice
Approx 69°South by 98°West (morning position)
Ship's Program Quote for the Day- We travel initially to lose ourselves; and we travel next to find ourselves. We travel to open our hearts and eyes and learn more about the world than our newspapers will accommodate. We travel to bring what little we can, in our ignorance and knowledge, to those parts of the globe where riches are differently dispersed. And we travel, in essence, to become young fools again - to slow time down and get taken in, and fall in love once more. - Pico Iyer, Why we travel
Morning finds us still heading west in the pack ice. We are encountering more bergs as well.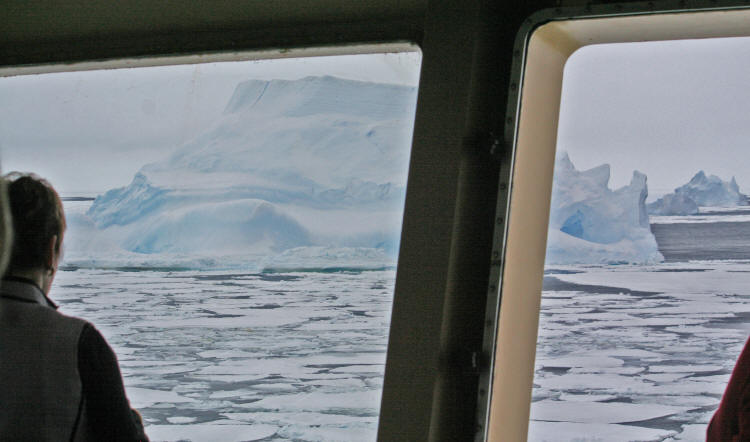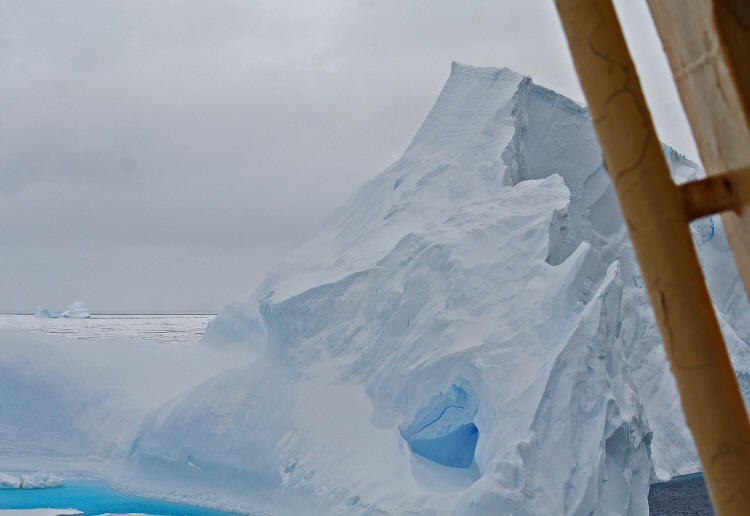 This morning, we have two informative lectures. Norm gives us a talk on Glaciers: Erosion, Transport and Deposition followed by Bob giving us a talk on The Antarctic Whaling Industry.
69°09'SOuth by 105°56'West (Noon Position)
After lunch, David gave another of his Art Workshops on Drawing Penguins- part 2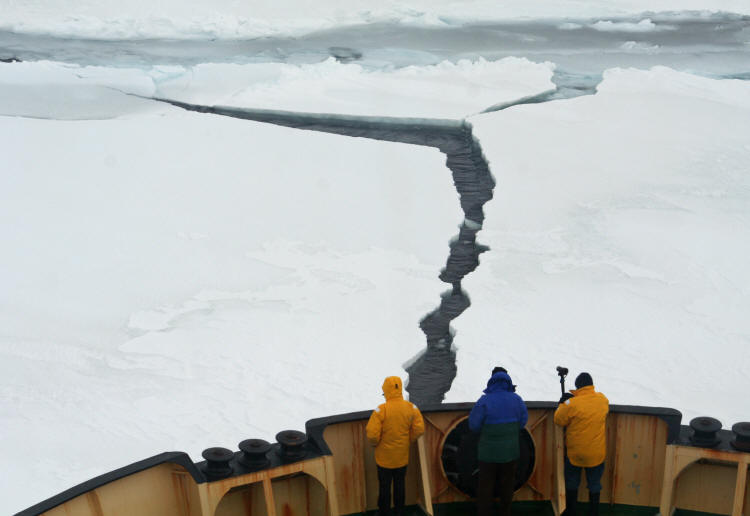 We are starting to encounter larger floes that we are actually breaking as opposed to just pushing through loose pack ice. This ice is about half a meter thick.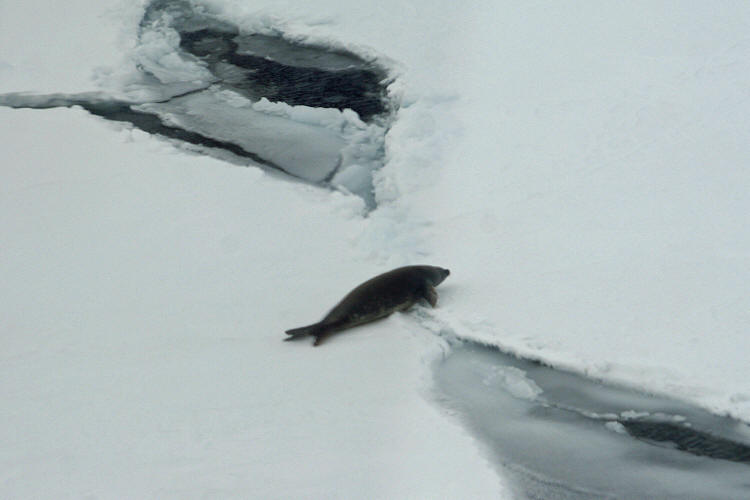 Crabeater scrambling from floe to floe as we pass.
Just before our evening Dinner, we had our mandatory Helicopter Safety Briefing and progress overview. We expect to be able to do some flight-seeing in a day or two!
November 24, 2008
Breaking Ice and drifting in the pack
Approx 70°South by 109°West (Morning position)
Ship's program quote of the day- Ice is the beginning of Antarctica and ice is its end. As one moves from perimeter to interior, the proportion of ice relentlessly increases. Ice creates more ice, and ice defines ice. - Stephen Pyne
Now that we are entering heavier ice, and larger floes, our helmsman is busy all the time searching for the best route through the ice. It is a demanding and exacting job, and we must keep quiet when we are on the bridge to avoid distracting him while he is thus engaged.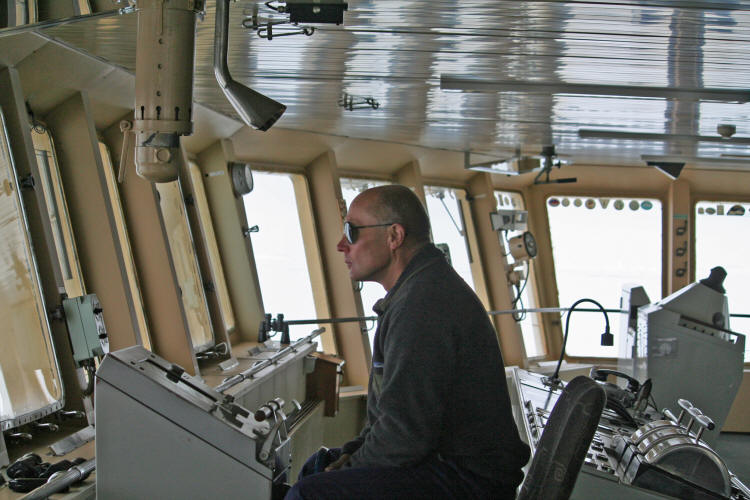 This morning Nigel gave us a talk on Living, Working and Diving in Antarctica based on his experiences while working on the Southern Continent for the British Antarctic Survey.
Just after Nigel's talk, we get an opportunity to examine the helicopters in preparation for our first flights. The helideck is aft, just ahead of the fantail.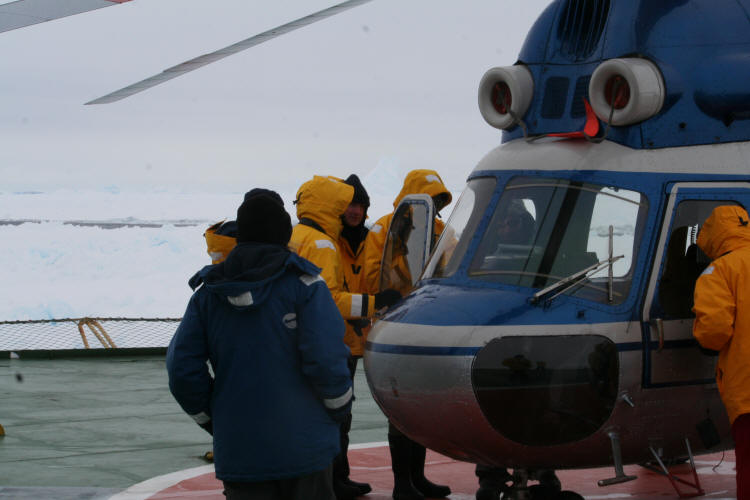 Just forward of the helideck is the hangar. When the rotor blades are removed, both of these Mil Mi-2 "Hoplite" helicopters will fit in the hangar and the curtains are closed for rough seas.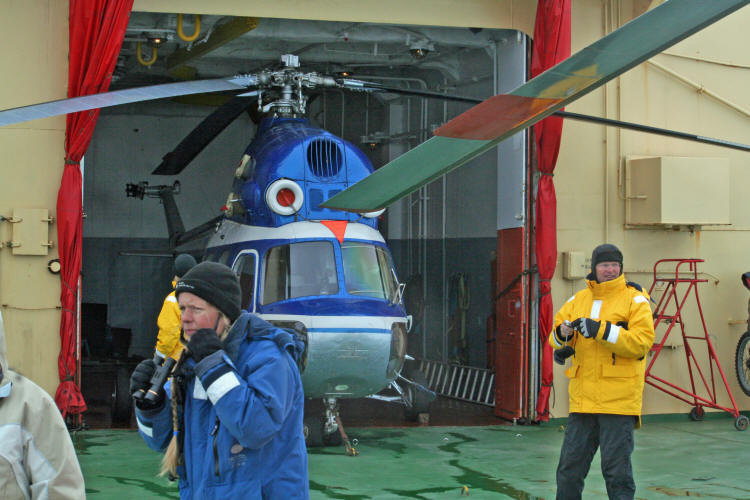 Following our tour of the helicopters, Sue Flood, photographer, gave her talk on Behind the Scenes on "Planet Earth" which she and her husband Doug Allan both worked on. Sue's web site is at http://www.sueflood.com/
71°26'South by 113°34'West (Noon Position)
We are now headed southwest into the ice, working our way closer to the coast, and hopefully Siple Island.
If I recall the date correctly, after lunch, Sue Flood and Andy Myatt gave a seminar on photography and digital photography tips and techniques. Andy was on board as a passenger, but is a professional photographer as well, and volunteered to help with the seminar. His web site is www.andymyatt.co.uk and has a catalog of really beautiful work.
Mid afternoon, Ian Bullock gave us a talk on Penguins, Plankton and People, covering how we interrelate, and how our actions affect that interrelationship. Ian is scientist with Oceanites and is participating in its Antarctic Site Inventory. You can read more about this interesting program, which is using tourist ships to access penguin rookeries for population studies, at http://antarcticsun.usap.gov/science/contentHandler.cfm?id=1506
In addition to their individual duties, Ian and Jana Newman of Antarctica New Zealand were using the trip to compare notes and seek synergy between their separate survey methodologies. Having these two "hitchhiking" scientists as part of our company certainly enhanced our voyage.
By late afternoon, our progress had slowed considerably, and the light and weather conditions were poor as well. Since it was becoming difficult to find any openings in the ice, this evening it was decided to stop, and just drift with the ice pack overnight.
72°25'South by 115°01'West (Midnight Position)
This was the view about half an hour after midnight.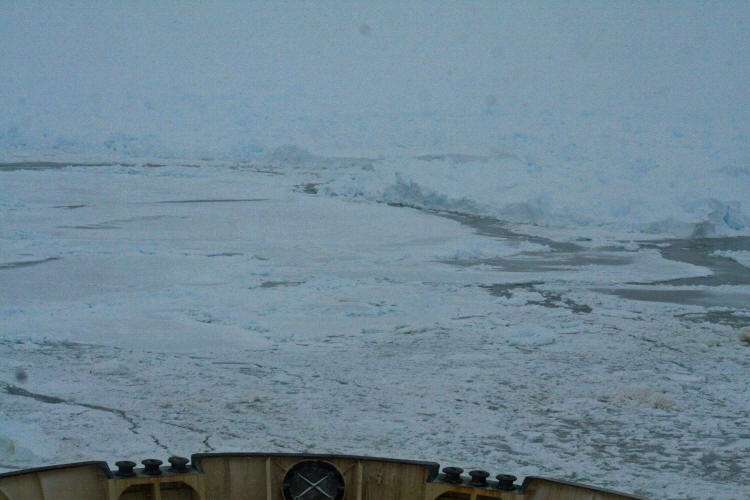 If you look carefully, you can see the pressure ridges ahead of the ship. These ridges form when the wind and tide drives the pack together so tightly that the ice, having nowhere else to go, begins to squeeze upward (and downward) and floes begin to slide up and over each other, resulting in these ridges. When these ridges freeze together, they are quite strong, and difficult to break.
Couple this with poor light and bad weather and it becomes difficult to find a route.
Thus ended our first foray below Seventy South.
On to Again heading West at 70S