Peninsula Continued,
Palmer Station and Petermann Island
November 18, 2008
Ship's Program Quote of the Day: To anyone who goes to the Antarctic, there is a tremendous appeal, an unparalleled combination of grandeur, beauty, vastness, loneliness, and malevolence - all of which sound terribly melodramatic - but which truthfully convey the actual feeling of Antarctica. Where else in the world are all of these descriptors really true? - Captain T.L.M. Sunter
0630 Hrs Early Wake Up call-Approaching Arthur Harbor
Breakfast is an hour early this morning in order that we will have enough time to visit Palmer Station and be out of the station in time for their lunch. Once we finish breakfast and finish our briefing on how the Zodiac operation will be handled, we all head to our quarters to get our gear on and await our group to be called.
0950 Hrs Zodiac Landing at Palmer Station
64░46'South by 64░04'West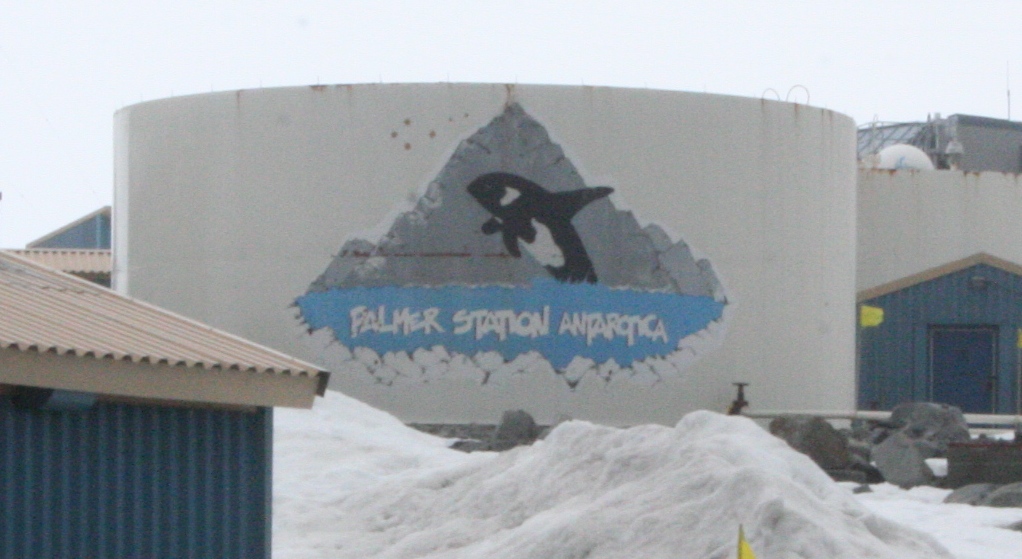 Above is one of the two fuel tanks at Palmer Station. Palmer Station is part of the United States Antarctic Program managed by National Science Foundation Office of Polar Projects. Most of Palmer's staff work for Raytheon Polar Services Company, the primary contractor for NSF under the USAP.
Palmer is the smallest of the three permanently staffed USAP stations, McMurdo and Amundsen-Scott(South Pole) being the other two. It has a summer population of about 40, and a winter-over crew of about 10.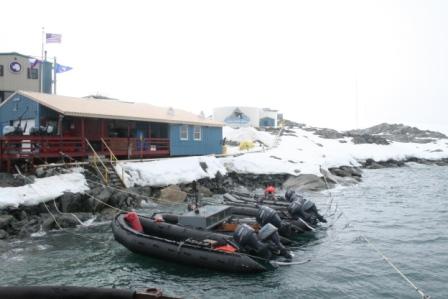 We landed our Zodiac next to Palmer's Zodiacs, which are tied up at the rock beach below the Boathouse/Dive Locker building, with the red porch.
Palmer's principle focus is marine biology, so diving is an important part of the program.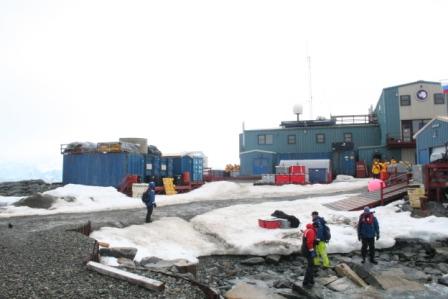 We waited for our escort on the small wharf next to the Zodiac Landing. Having no airstrip, Palmer is serviced by ships, and usually operates in conjunction with the research vessel
R/V Laurence M.Gould. The Large Building in the background on the right is the Bio Lab. The top level of the Bio Lab building also houses the kitchen, dining room, administration, communications and some berthing areas (sleeping quarters). The blue structures to the left are intermodal shipping containers filled with everything from supplies to hazardous waste to be retrograded to the U.S.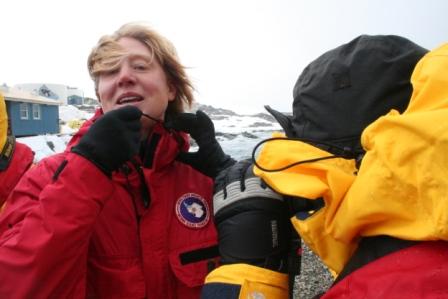 Our escort Louise Hamlin arrives and is immediately accosted by one of our passengers who wants to take a closeup photo of her USAP patch. Louise is on a break from her regular job at NASA's Jet Propulsion Laboratory where she is senior engineer on the Kepler Telescope satellite. That project is waiting for a launch slot, so that enabled Louise to come work at Palmer for the season. Update: Since I wrote this, Kepler has launched. See http://kepler.nasa.gov/ The Launch on March 6th was observed and cheered on by Louise's friends at Palmer over the Internet.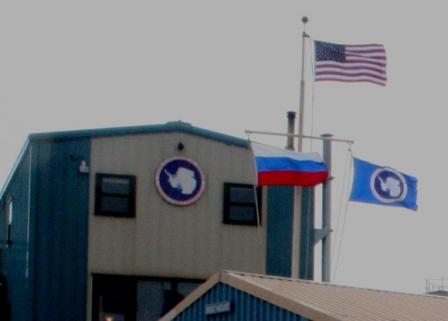 In case you don't recognize it (if you don't, you have not been keeping up with recent history), the flag on the yard arm to the left of the US Antarctic Program flag is the flag of the Russian Republic. It is flying as a courtesy to our ship, the Kapitan Khlebnikov, which is a Russian flag vessel.
It should be noted that the K.K. flew a U.S. flag on its yard arm as well that day, for the same reason, but the weather was bad and I never got a picture of it.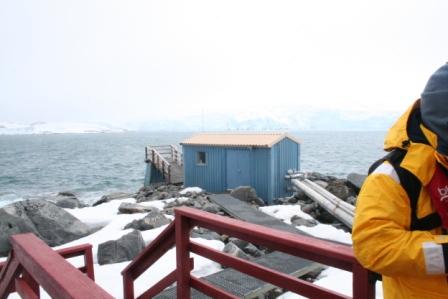 The small building next to the water is the Sea Water Pump House. Palmer uses a reverse osmosis system to obtain fresh water from sea water.
Although I did not take a picture of it, there is also a small waste treatment plant that treats wastewater before it is returned to the sea.
If I recall correctly, Louise is pointing across the bay to the location of "Old Palmer" station, which has been completely dismantled and hauled off of the continent.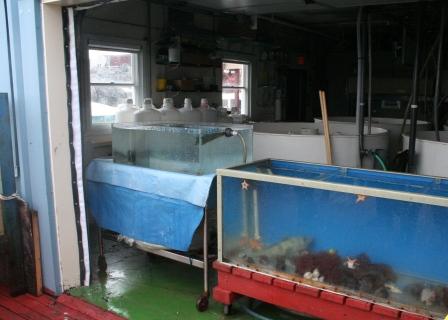 Behind the Bio Lab is the Aquarium Building, with its inside tanks. This view is from the outside, and the overhead door was open so we could see inside.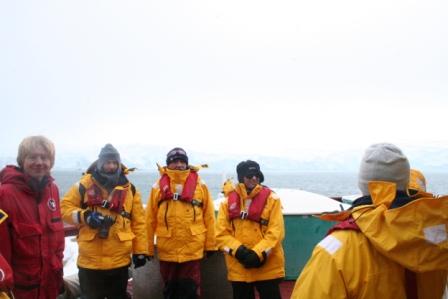 Behind Louise and several fellow passengers, you can see a blue-green tank with a white lid. This is one of several outside aquarium tanks.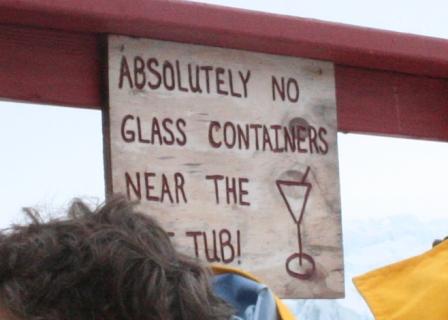 Once upon a time, one of the outside aquarium tanks got damaged in some way that it was no longer suitable as a marine life habitat. It then was repurposed into a hot tub for the divers to use to warm back up after long dives in the frigid waters. Eventually it was made available to other station personnel, with the conditions set forth on the sign depicted at left.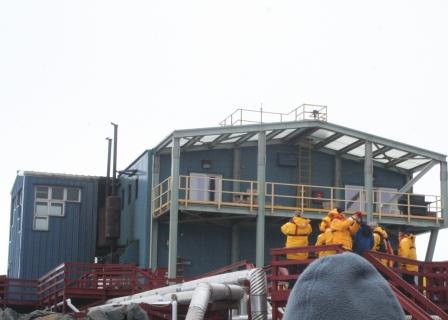 The building at left is the GWR. GWR stands for "Garage Warehouse Recreation". The Garage, Warehouse and power generation systems are on the first floor. Also on the first floor is the station store, (nicknamed according to some "Pal-Mart"). On the second floor is the gym, lounge and bar. The rest of the berthing areas are on the second level of this building. Because fire is an ever present concern in Antarctica, most stations spread accommodations among more than one building, thus if a fire destroys one building, by doubling up, personnel can still be kept warm and dry.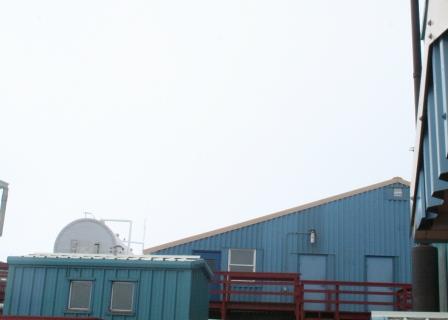 Between Bio Lab and GWR are a couple of important support buildings.
It is hard to get a good full shot of the larger building, but it is the "Carp Shop" (Carpentry) or sometimes called the "All-Trades" building. Basically, the folks who keep everything running work from this building.
The smaller building to the lower left is the Sauna.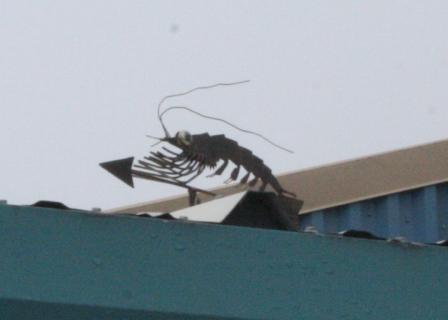 Atop the Sauna is this whimsical weathervane depiction of a krill. Krill are part of the foundation of the food chain for Antarctic Marine life. Krill eat the zooplankton that grows on the underside of the sea ice. Practically everything else eats krill, directly or indirectly.
I wonder if someone was thinking about boiled krill when they put this on the Sauna building?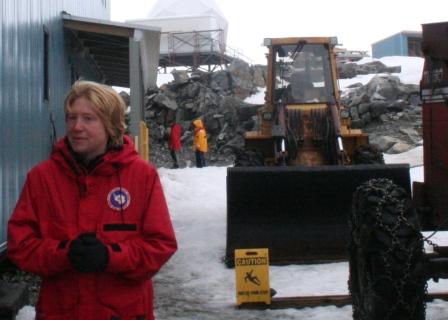 Behind Louise you can see the lean to roof over the entrance to the station shop. I hope the shop personnel survived the onslaught of almost a hundred souvenir seeking yellow parka clad tourists.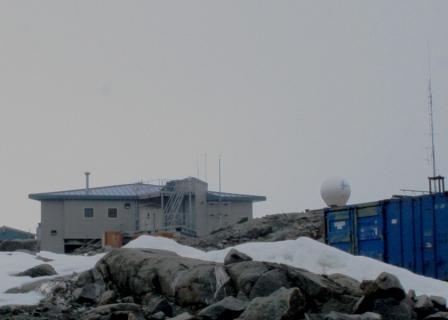 On the hill behind GWR is Terra Lab. It is the newest building at Palmer. It houses projects concerning atmospheric science and geophysical sciences. It also houses equipment used in monitoring for the nuclear test ban treaties.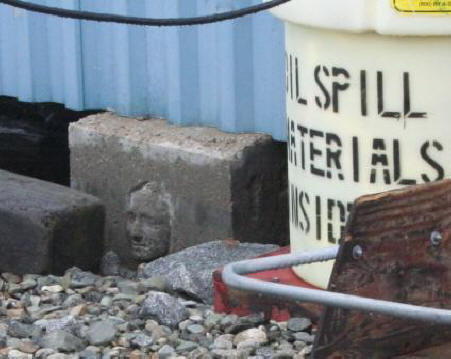 I spotted this interesting concrete footing on the back side of the Boat House. I never got a chance to ask anyone about it. If any reader knows why there is a face cast in the footing, please let me know.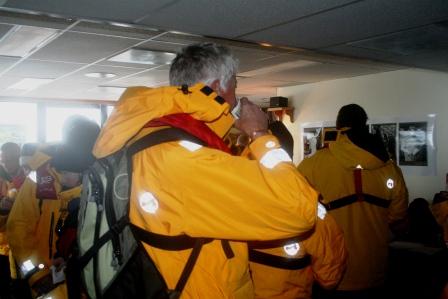 We were invited to come upstairs in the Bio Lab building and have some warm drinks and munchies before we left.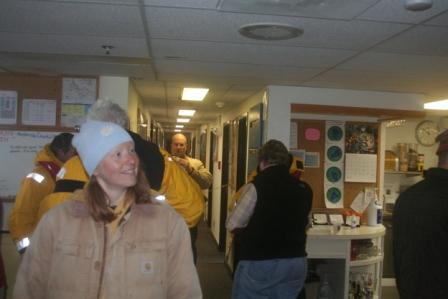 Many of the Palmer station personnel were there to "meet and greet" and they seemed genuinely glad to get to see some new faces. We probably tripled the number of persons in and around Palmer while we were there. Since most of the station staff work for Raytheon Polar Service Corporation out of Denver, I met some fellow Coloradans in this group of nice folks.
Thanks to the "Yanks" at Palmer for letting us all visit, and a special thank you to Louise for an informative tour.
Before I leave the subject of Palmer Station, I want to include a contribution from my dad John. He used to be an avid radio hobbyist and did a lot of Short Wave Listening (SWL). One of the things SWL'ers liked to do was contact distant stations they had heard by mail, giving details of what they heard, when they heard it, and on what frequency, hoping for a confirmation card, or "QSL" to be returned from the distant station. In my fathers words "The contact that I was most proud of was hearing the Palmer Station in Antarctica talking to the South Pole station. They were cutting ice cores at the South Pole and giving their report to Palmer Station. I wrote to them requesting confirmation that I had heard them. At that time (1968) these stations were run by the Navy and I was not sure if I would hear back. I got a nice letter from the operator at Palmer saying the contact was very helpful. He sent a QSL card also. I also got a QSL card from the South Pole.
I lost the letter, but I found the cards, which I have attached..."John E. Walters
And here they are
Images above courtesy John E. Walters
After we had all returned to the ship, and bid Palmer Station farewell, we got underway and set our sights upon the Lemaire Channel. While we were heading toward the channel, I got a few good pictures of Antarctic Petrels, whose territory we were now well within. With experience, you can probably just about tell where you are in the Southern Ocean by what sea birds you are seeing.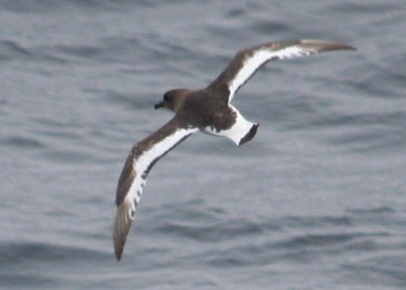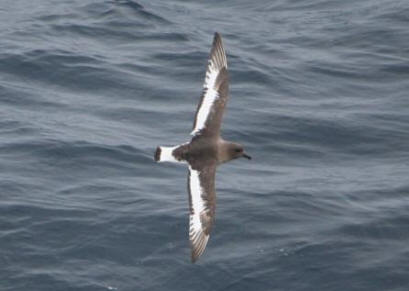 1330 to 1430 Hrs Cruising the Lemaire Channel
65░03' South by 63░55' West
At this point, I need to take a little detour from my narrative to talk about expedition travel, expectations, and experiencing the moment. Some of you reading the log may be thinking of traveling to Antarctica some day, and I would encourage you to do so. But, know that you will have a different experience than mine, because the weather will be different, the sea will be different, the ice will be different, and you will be different. I never said any of those things would be bad, just different. I tried to go to Antarctica with as few preconceived notions as possible; I knew that conditions would prohibit us from doing everything envisioned as a possibility on this voyage. I will not discuss to any extent in my log the things we missed doing...we had plenty of great and fantastic experiences. But, I don't want anyone reading this log to think that their experience should be like mine when they try this some day. It won't be. It will, however, be your experience. So, go everywhere in this world prepared to enjoy the experience you have; do not let yourself return home regretting not having an experience you think someone else had.
So why am I taking this aside? Well, Lemaire channel has a hard reputation for itself to live up to. It is a seven mile long, one mile wide channel between the Peninsula and Booth Island. It has nicknames like "Kodak Canal, Fuji Funnel", etc. It you look on the web, you find fantastic clear sky shots proud photographers have posted. And if I had set my heart upon an experience like that, I would have been disappointed.
Antarctica had a different idea for weather the day I was there.
Still, it was beautiful, with a magical, almost surreal beauty. It was like traveling through a land of Nordic myth. It was quiet and cool; the mountain peaks around us drifted in and out of the mists, under an ominous sky, dwarfing our ship, our existence.
So here is my experience of the Lemaire channel from the flying bridge on November 18th, 2008.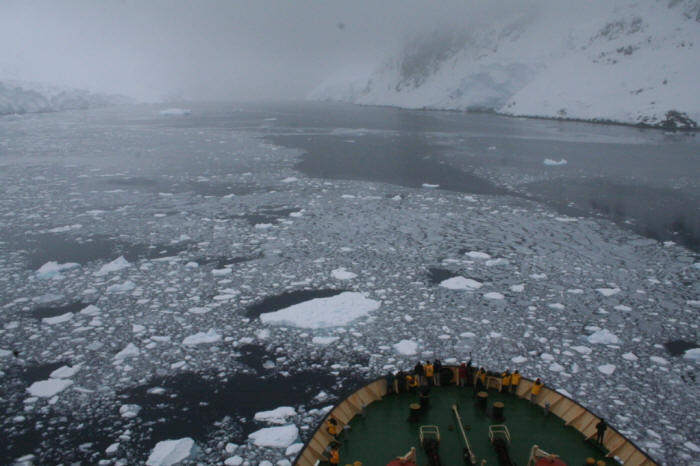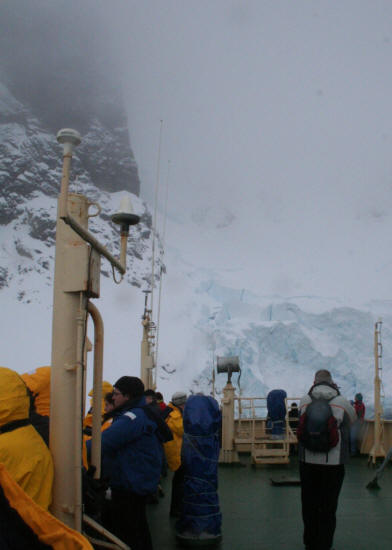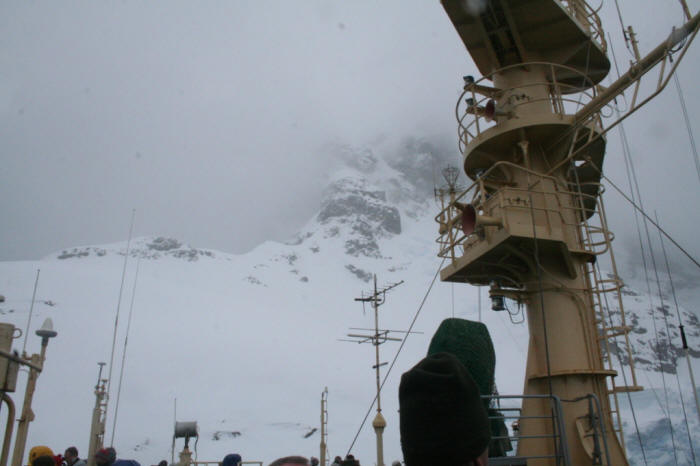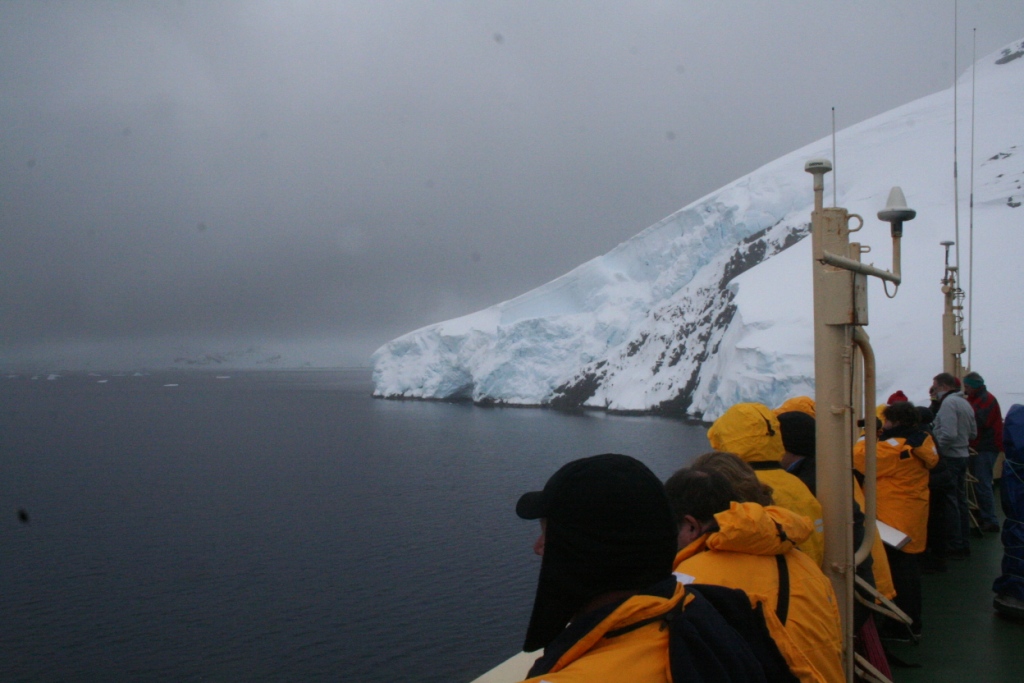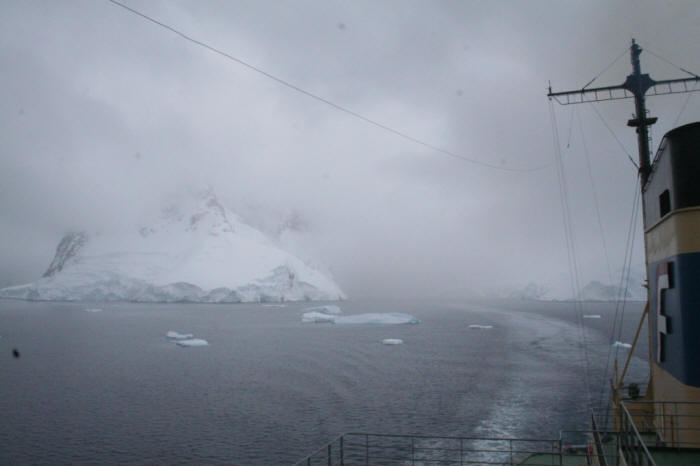 And as we leave Lemaire Channel, I find my experience, though different, was still great.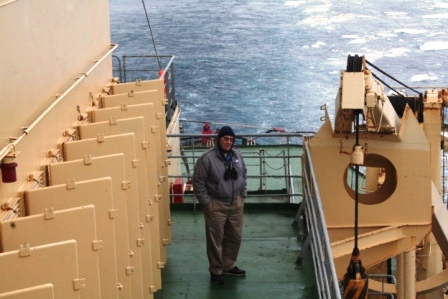 John found his own place to enjoy the Lemaire Channel. This spot on Deck 7 was known as the "Iron Beach". There is a similar spot to starboard. All of those open covers to his left as you look at the pictures are the open vents for the discharge air from the engine cooling radiators. There is always a plentiful supply of warm air coming out those vents, making this a balmy spot to stand and watch what is going on outside. A sort of mini-tropic for those who are beginning to wonder if they really should have booked a Caribbean trip instead...
1500 Hrs Petermann Island Zodiac Landing
65░11' South by 64░08' West
A portion of the Wikipedia entry for Petermann Island
"Just 2 km long, the low rounded island is home to the world's southernmost colony of Gentoo Penguins, and also hosts a number of Adelie Penguins. The island was discovered by a German expedition of 1873-74, who named it after geographer August Petermann. The French Antarctic Expedition of 1908-10 wintered over aboard ship in a cove on the southeast side of the island, named Port Circumcision because it was spotted 1 January 1909, the traditional day for the Feast of the Circumcision. Huts built by the expedition are gone, although a cairn remains, along with a refuge hut built by Argentina in 1955..."

The landing involved dodging rocks and ice.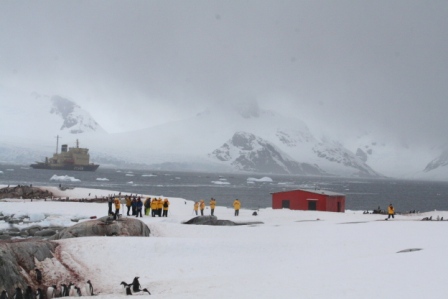 Here you can see the Argentine hut, with our ship in the background.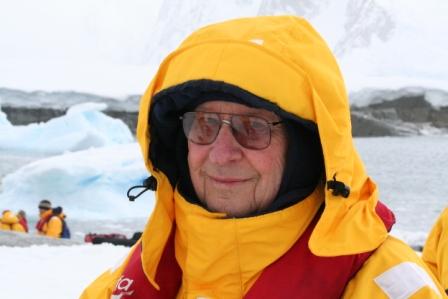 Here John is enjoying himself while the weather is nice. He is near the landing beach.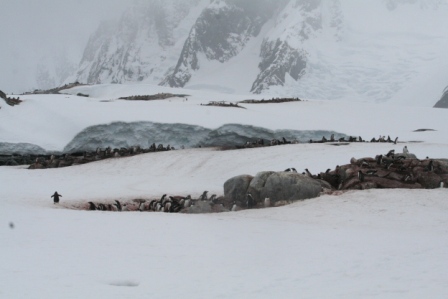 The first rookery you encounter is the Gentoo Rookery, which is as far south as you find the Gentoos.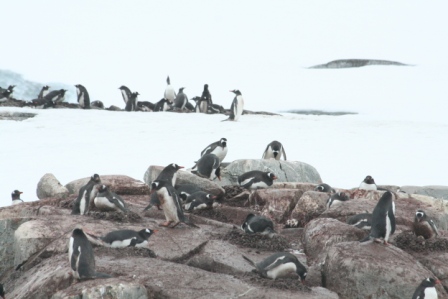 Here is a closer look at the Gentoos nesting in the rocks.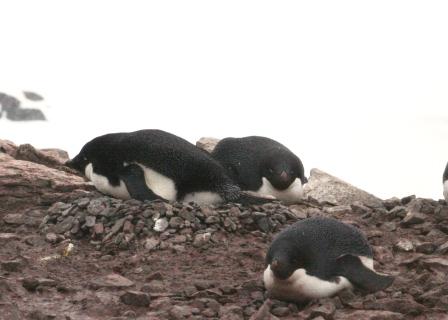 Further up the hill is the AdÚlie rookery
AdÚlie penguins also nest on the rocks, and make gravel nests.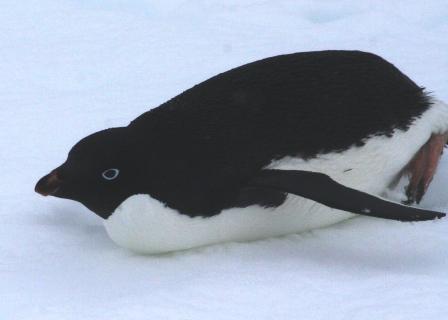 AdÚlies have an almost completely black head, with just a little white around the eyes. Petermann is our first opportunity to see these animated fellows up close. AdÚlies will be our more or less constant companions once we enter the main sea ice pack in a few days hence.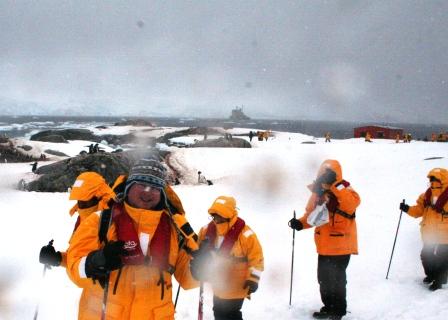 It began to snow, so I decided I ought to go ahead and head back down the hill and find John, and head back to the ship before we got too wet. Also, it was getting a little crowded around the AdÚlies, and more folks were headed up to see them, so I figured that I should make some space for those who still wanted a chance to see them.
Before we leave Petermann, there is one more story about the place I should share. On July 13th, 1982, three members of the British Antarctic Survey came across the ice from Faraday Station to Petermann Island, intending to climb Mt. Scott. The weather did not cooperate and they aborted the climb and took shelter in the Argentine hut. From their entries in the hut log, we know that during the evening of July 15th a severe storm blew through, destroying some of the out buildings, and more seriously, the storm broke up the sea ice, trapping the men there. At that time, they estimated they had 50 days of food left, 90 days of fuel. Their log entry of August 1 noted there was still no sign of sea-ice, and that their radio batteries were failing, so they were reducing their radio calls to Faraday to once a day.
The next log entry was made September 15, 1982 by a sledge party from Faraday that came "in search of stranded lads". There being no sign of them, it could only be that they had tried to cross the ice back to Faraday and had the ice break up again. In April of 1983, a large party from Bransfield [Port Lockroy] came to Petermann Island, erected the memorial cross, and held a memorial service in memory of the men.
The text of the plaque at the memorial reads:
ERECTED IN MEMORY OF
JOHN COLL
AMBROSE CHARLES MORGAN
KEVIN PAUL OCKLETON
MEMBERS OF THE BRITISH ANTARCTIC SURVEY
LOST ON SEA ICE
AUGUST 1982